Louisville Coroplast Signs
View Indoor Sign Gallery
Spread your message, brand, or any information effectively without having to spend a lot with On Display Signs, Inc.'s high-quality Louisville coroplast signs!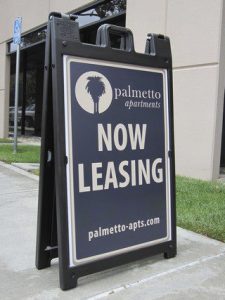 We are a leading signage company specializing in creating custom signs strategically designed and built to carry out their intended functions. We know that coroplast signs are one of the most cost-effective signage types out there, bringing effective marketing results without costing too much. Our coroplast signs are made with industry-quality corrugated plastic, offering a lightweight yet durable product perfect for any promotional project.
As an all-around signage company, we can help you translate your designs into actual products or build an effective visual concept from scratch. We are dedicated to providing every service needed by our clients, from designing and manufacturing to installation and repair. If you need top-quality Louisville coroplast signs, you know where to find them.
Call On Display Signs, Inc. at 502-235-4063 for your Free Consultation with a Louisville Coroplast Sign expert!
Promotional Signs for Business
If you need a marketing tool that won't hurt your budget yet will significantly boost the visibility of your business, cause, or event, you must consider our Louisville coroplast signs. They are a proven tool used by a wide array of businesses from any type of industry. And with On Display Signs, Inc. by your side, you can fully customize these signs to anything your brand, creative vision, and personal preferences require.
Coroplast signs are typically used for the following goals:
Promoting special events, such as local fairs or marketing campaigns

Disseminating information to a locality, such as parking regulations and local ordinances

Advertising a business's products and services

Promoting seasonal products or new releases

Informing the public about construction activities in an area
At On Display Signs, Inc., we aim to achieve the full satisfaction of our clients. So whatever budget and schedule that we agree on, we make sure that they are observed accordingly. Our team is composed of highly seasoned professionals with great workmanship and skills, guaranteeing the quality of our products and services.
Custom Real Estate Signage
The real estate industry is one of the biggest users of coroplast signs, which effectively promote open houses and properties for sale.
As one can observe in residential areas, houses for sale are typically fronted by coroplast signs that display the brand of certain real estate companies or agents. These are the signage that we can provide your business with. Whatever branded images, logos, or taglines you want to creatively imprint on your signage, we can do that for you.
We can even take care of your supplementary printed material, from flyers and handouts to catalogs and brochures. Just tell us what you need and what you're going for, and we'll provide everything you need to get your top-quality Louisville coroplast signs.
Political and Campaign Signs
Another dominant use of coroplast signs is campaigning for political candidates. The election season demands huge promotional efforts. And coroplast signs are one of the most effective, most portable, and easiest to install yet least expensive tools for sharing information about electoral candidates.
On Display Signs, Inc. has all the equipment needed to create the fully customized campaign signs that you need. We are capable of high-quality printing in mass volumes in a reasonable amount of time. These high-quality Louisville coroplast signs might be lightweight, but they are also made of highly durable plastic, allowing your supporters to easily disseminate these products and expand your campaign's reach.
Free Consultation Today
At On Display Signs, Inc., we dedicate our resources and expertise to creating the best quality of signage products that we can make. Rest assured that we will deliver you signs that are made to match your exact business goals.
Whether you want to effectively spread the word about a political candidate that you support or distribute informational signs about a local event in your community, On Display Signs, Inc. is here to design, create, and install high-quality Louisville coroplast signs for you.
Call On Display Signs, Inc. today at 502-235-4063 for your Free Consultation with a Louisville Coroplast Sign expert!