Louisville Vehicle Wraps & Graphics
View Vehicle Wrap Gallery
Eye-catching, high-impact, and high-visibility, commercial vehicle wraps and graphics are an exciting, functional way to promote your business and brand. When you choose On Display Signs, Inc. as your Louisville vehicle wrap company, you get the best results possible.
We understand how vitally important it is to build visibility for your business and brand within your local community. Fortunately, you already have a tool that, with a little update, can be the perfect resource for getting the word out about your brand- your own vehicle!
From food truck wraps to semi-truck graphics, we are your local, all-inclusive vehicle wrap provider. We assist with all aspects of commercial car graphics, from working with you to determine the perfect design to efficient production and professional wrap installation.
Call On Display Signs, Inc. at 502-235-4063 for a Free Consultation with a Commercial Vehicle Wrap Expert!
Vinyl Graphics, Partial Wraps, & Magnets
From complete commercial vehicle wraps for your entire fleet to removable vehicle magnets, we have a full range of promotional wrap options. Our Louisville commercial wrap experts ensure you not only get the right design and layout for your vehicle, we also make sure you are getting the right product and coverage amount to fit your budget. Our goal is to maximize your marketing reach in an affordable, economical, and high-impact way, and vehicle wraps are the perfect tool.
Full Vehicle Wraps
Full vehicle wraps are the ultimate in vehicle customization and marketing. Providing a complete layer of protective coverage, a full wrap covers all the panels of your car, truck, van, trailer, bus, or any other vehicle you use for commercial work or promotion. This gives you the greatest versatility and flexibility for design, allowing you to use your entire vehicle as a customer-generating and brand-building promotional tool.
We utilize a heavy-duty, premium quality wrap material that is suited to your unique usage, needs, and desires, withstanding the snow, road salt, and sun that comes along with the unpredictable Kentucky weather.
Partial Car Wraps
If wrapping your entire car won't suit your needs, vehicle, or budget, we also provide partial car wraps. A partial wrap targets a specific or combination of vehicle panels for your promotion.
This could be your doors, side panels, hood, trunk, bumpers, tailgate, back half, front half, or just sides of your vehicle. We can do your hood and trunk, just the driver's side, or any combination you desire.
Partial vehicle wraps are applied to entire panels, providing protective coverage to the areas where they are applied.
Vinyl Graphics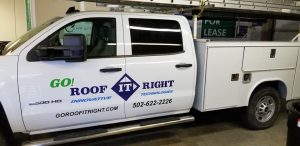 Another option for vehicle customization is cut vinyl graphics and lettering. Instead of applying entire sheets of vinyl, cut vinyl graphics are individual elements that are placed directly on your vehicle to create an image or message.
Cut vinyl graphics are not designed for layering messages and images the same way that partial or full wraps are. However, they are an excellent, wallet-friendly option for someone who wants to simply add their business name and logo, phone number, DOT information, or other basic details to their vehicle for a clean look.
Individual vehicle vinyl graphics also make it easy to test out a new wrap idea or to allow you to regularly remove and replace a promotional or temporary message.
Vehicle Magnets
Many business types find that vehicle magnets are the best solution for their vehicle branding needs.
Whether you represent multiple brands, want to easily change your branding from vehicle to vehicle, often work with rented machines or vehicles, or if you use your commercial vehicle for personal use, custom vehicle magnets are the removable, swappable, and highly-customizable tool you need.
On Display Signs, Inc. produces customized vehicle magnets in any shape, size, and style, from basic rectangular prints to custom shapes and full-color designs.
Perforated Window Film
Are you seeking the perfect finishing touch for your custom vehicle wrap? Perforated window film is a smart, attractive, and functional product that provides both privacy and promotion.
Providing unobstructed view to your vehicle inhabitants and a custom marketing message to those looking in, perforated vinyl window clings allow you to maximize your branding while increasing privacy for vehicle inhabitants, or reducing the risk of theft if you use your vehicle for transport of tools, supplies, or packages instead of people.
We are excited to deliver the perfect vehicle wrap, vinyl graphics, perforated window film, and other finishing touches such as side mirror wraps and door handle wraps for your marketing and branding needs, vehicle type, and budget. Our Louisville wrap experts are available to consult with you on the many custom vehicle wrap options available to you.
Professionals Wraps For All Vehicle Types
As your Louisville, KY commercial vehicle wrap supplier, we are dedicated to providing high-quality, attractive, and impactful commercial wrap and graphic products to help you promote your brand, your business, and support your other marketing initiatives.
We provide custom wraps for all vehicle types, from RV's and buses to smart cars, golf carts, or even riding lawn mowers. If you have a tool of your trade that you would like wrapped with professional vinyl graphics, we can do it. Every time you can display your branding is an opportunity to build familiarity with your customer base and desired clientele, making them more likely to use your products and services in the future.
As full-service wrap providers, we assist with wrap design, efficient production, and precise installation of your custom wrap products.
Our vehicle wrap services include:
As a complete Louisville signage company, we provide every sign your business could need. Just reach out to On Display Signs, Inc. for a custom signage consultation and quote.
Attractive Wraps for Your Entire Fleet
Many businesses utilize several different vehicles and even many different types of vehicles to support their business operations. We can customize your wrap design to suit all of your fleet vehicles, allowing them all to be cohesively and attractively finished, and supportive of your brand.
Some contractors, plumbers, electricians, landscapers, installers, delivery vehicles, and other mobile business types visit customers at their homes. Branded vehicle wraps improve customer confidence by reassuring them that you do, in fact, represent the brand that you claim. This makes it easier for them to welcome you inside their home with a sense of security.
Full-Service Vehicle Wrapping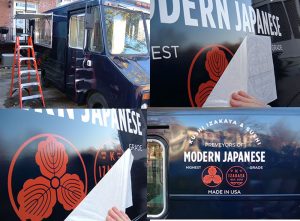 Our Louisville vehicle wrap and graphic staff supports you during the entire vehicle wrapping process. From your initial vehicle wrap consultation with one of your experts to professional wrap installation, we make sure you have an effective, attractive, high-quality wrap product that performs.
Our wrap design experts will help create the perfect layout for your message and vehicle, helping you to display your most important business details in a highly-visible and attractive way. Once you have a finalized wrap design, our production specialists make sure every element is manufactured exactly to spec and prepped for our installation team to take over.
Our vehicle wrap installers make sure the final product is just as you visualized, ensuring a smooth, seamless, and attractive finish. We look forward to delivering a custom wrap that you are proud to display around town, in your lot, and on the go.
Free Vehicle Wrap Consultation
Branded vehicles provide a lot of value, from promoting your brand and business to increased customer security. Whether you are looking to build your customer base, or improve the satisfaction of your existing clients, we have the smart, innovative, and attractive commercial vehicle wrap solutions for you.
On Display Signs, Inc. is your Louisville commercial vehicle wrap company, dedicated to assisting you with all of your sign, wrap, and graphic projects.
Call On Display Signs, Inc. at 502-235-4063 for your Free Consultation with a Vehicle Wrap Specialist!