Louisville Vehicle Decals
View Vehicle Decals Gallery
If you're looking for a new and effective way to advertise your company but stay on budget, vehicle decals are perhaps your best choice. They are not only extremely value-adding to any company's endorsement strategy, but they are also one of the cheapest ways of upgrading your marketing department.
Do you know that in a study by the Outdoor Advertising Association of America, 96% of the people surveyed believe that advertising using vehicles does a better job than traditional methods? This is because mobile advertising can bring your company's name and information to places much farther away than stationary marketing materials, like posters. Furthermore, the Traffic Audit Bureau for Media Measurement estimates that vehicle decals can create up to 30,000 to 70,000 impressions a day even though they only cost $0.77 per thousand impressions.
If you think vehicle decals are for you, On Display Signs, Inc. is your best choice for this endeavor. We are a full-service provider of signs, graphics, and all types of surface visuals, including vehicle decals. We have been serving the people of Louisville, KY, for years. We know that attention to detail and sharpness is vital in our line of work. We have all the resources to provide your van, car, or any other vehicle with the perfect decal graphics that communicate your company's brand excellently. We can't wait to work with you!
Call On Display Signs, Inc. today at 502-235-4063 for your Free Consultation!
Maximize Your Advertising Space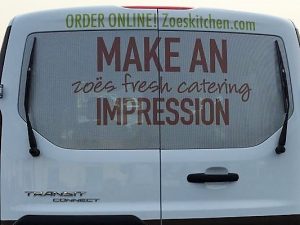 Many companies who get decals for their vehicles typically rush to cover the majority of the automotive's surface. But good decal design and application must revolve around sight and safety. For example, putting graphics on a car's side and rear windows must be treated with careful calculations.
As specialists in vehicle design, our team knows how to properly install high-quality decals without sacrificing safety and the driver's area of vision. We can use perforated decals to still cover your vehicle with excellent designs without covering vital parts of the windows. These decals don't fade, are easy to clean and very durable. They can also diffuse bright light, reducing harsh shadows and glare. Our products can surely bring your mobile marketing to the next level.
Give Your Vehicle a Customized Look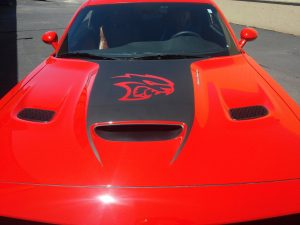 Our experience in the industry allows us not just to provide high-quality products, but also to modify them according to the company brands of our numerous clients in Louisville throughout the years. On Display Signs, Inc. assures that whatever design we install on the vehicles of our customers, it represents their company's personality and identity well, allowing better advertising.
For mobile graphics that are customized for a specific brand, we offer our industry-grade clear vehicle decals. These types are transparent on non-printed areas, allowing more flexibility in the size, position, and overall design of the decals. If you're searching for the professional look of the die-cut vinyl lettering, we can also provide decals that look the same but are priced way lower.
In terms of design, we will gladly accept your design plans and figure out the best solutions in bringing them to life. But if you're still trying to come up with one, our pool of professional and seasoned designers will help you create the best design for your vehicle with your budget and brand into consideration.
Keep Your Ad Content Current
Aside from design and function, On Display Signs, Inc. also understands the importance of meeting the demands of the time. It's vital that for every new best selling product or new industry trend that goes out, the company can adjust its visual brand accordingly.
Our opaque vehicle decals are durable and attractive, and they are built to provide ease in installing and removing. They don't leave any significant damages when removed from the surface of a vehicle. They are also very economical. So if you want to have great vehicle designs that can be changed frequently from time to time and still stay on the budget, this is your best bet.
Full-Service Sign Company
Whatever custom detail, specification, or style you want for your vehicle decals, our complete team of specialists can do it for you. We are a full-service provider of all the needs of our customers in Louisville.
We do everything from the design and planning up until the installation and maintenance. We can manage the whole project, design and improve your graphics, and printers and installers who can excellently apply the product to your vehicle.
We guarantee that your vehicle decal goals are in the best hands in Louisville. We can't wait to be your partner!
Free Vehicle Decals Consultation
If you're interested in our services, contact us today, and we'll get you your high-quality vehicle decals in no time. If you're still undecided about the design, the material, or anything else about decals, we can help you out.
We offer a free consultation with our experts to help our clients decide on their vehicle decal project. Let's find the best solutions for your vehicle graphics together.
Call On Display Signs, Inc. today at 502-235-4063 for your Free Consultation with a Vehicle Decals Expert!