Louisville Indoor Signs
View Indoor Sign Gallery
Whatever your type of business, the proper mix of indoor signs and graphics will significantly influence your brand exposure, margins, and client happiness. From assisting customers and guests with wayfinding to keeping employees safe in dangerous work areas, your indoor sign and graphic blend keep operations running smoothly.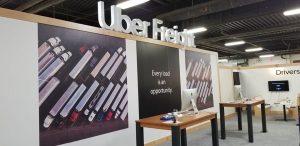 Enlisting the aid of a qualified expert makes selecting the perfect indoor sign elements easier. There are a number of different facets that need to be taken into consideration, such as your business sign and graphic goals and objectives, how customers utilize and navigate your facilities, relevant local sign and graphic laws, and how frequently you plan to modify your signage can all impact the type and number of custom interior signs you choose for your space.
Your local Louisville indoor signage experts, On Display Signs, Inc. understands how impactful signage can be used to control how customer traffic flows through your business, keep your employees safe, and highlights your branding. By building attention-grabbing signage elements that are specific to your brand, specifications, and facilities, we take your business or organization to another rung.
We often perform on-site facility signage assessments, which makes it easier to recommend suitable signage so clients and employees can freely find their way through your location and quickly get the departments, information, or areas that they are looking for with marginal team member assistance.
Call On Display Signs, Inc. at 502-235-4063 for your Free Consultation with an Indoor Signs Expert!
Interior Signage For Office Buildings
Office buildings are quite often home to any number of businesses and organizations or may contain numerous divisions for a specific business. Either way, office buildings usually are hard to maneuver through, making it the responsibility of your front desk staff to provide wayfinding support to every single guest or visitor.
Many brands can now reserve their office staff for more important tasks by selecting supportive sign and graphic products to provide support to clients and visitors. From facility maps to room identification sign and graphic elements, indoor signs and graphics are vital for supporting intuitive wayfinding within office complexes.
Wayfinding support isn't the only way indoor signs and graphics can be incorporated into your facilities. Effective accessibility signs, wall murals, promotional signs, informational signs, logo signs, and product displays can be implemented to express brand insights, your business story, and your service and product blend. Lots of offices implement different sign types and materials to boost their brand and message.
Retail & Restaurant Indoor Signs
Retail store and restaurant indoor signs and graphics are more often than not more concentrated on promoting merchandise as opposed to reinforcing your brand personality. That does not mean that your brand doesn't play a considerable part in your wayfinding and promotional signs and graphics!
On Display Signs, Inc. manufactures effective product displays, floor vinyl, point of purchase signage, and more that highlights your products and uses your logos, fonts, and colors for building brand cohesion throughout. Our experts make it simple for customers and guests to navigate your business facilities, finding the products, areas, and departments required to make a purchase. We create intuitive signage elements. Our experiences mean we are very familiar with visitor routines and their signage expectations. This allows our experts to ensure that your signage fulfills their expectations.
Signs for Warehouses & Manufacturing
Warehouses, factories, distribution centers, manufacturers, and other types of organizations not commonly available for the general public also want functional and effective signage. If your goal is to strengthen personnel morale, tell them about potential hazards and safety procedures, or share the story of your brand with the support of vinyl graphics, On Display Signs, Inc. produces the ideal commercial sign and graphic mixture for your needs and facilities.
Wall murals, safety signs, wayfinding signage, and indoor banners can all reinforce your organizational objectives and goals, both limiting your team's risk of injuries and creating a workplace that employees are comfortable going to each day. On Display Signs, Inc. is your supplier of high-impact industrial signs and graphics, offering you guidance, support, and assistance, so you can be positive you are getting the best signs.
Cohesive Interior Signs for Business
When you are trying to promote your services and brand and expanding name recognition for your business, uniformity throughout all of your messaging is necessary. Using specified branding parameters, and making use of them in all of your promotions and marketing, you won't only attain the much-needed repeat exposure for your corporate branding to be remembered, but you will also present a comprehensive and thorough picture of what your company is all about. Our professionals construct appealing promotional signage, ADA signage, point of purchase signs, directional signage, and department signage that will seamlessly harmonize with your existing signage.




If your project calls for professional design services, our professional Louisville indoor sign design specialists have the ability to conceptualize the perfectly branded commercial indoor signs and graphics for your goals, brand, and facility.
Every Indoor Sign Your Business Needs!
You can always depend on On Display Signs, Inc. to supply impactful commercial interior signage.
From wall murals to trade show displays, our experts appreciate the distinct and specific specifications of various verticals. Our specialists consider your physical facilities, corporate goals, and brand guidelines to provide the best sign and graphic elements for your branding and marketing needs.
Whether you want a single sign or graphic or a total combination of commercial and promotional signage elements, On Display Signs, Inc. will handle the entire venture.
We have exactly what you need to make sure that your signs will be high-quality, functional, and produced using earth-conscious practices and resources when we can.
Our indoor sign services include:
Are you looking for complementary exterior signs to complement your interior signs? We can deliver functional and effective exterior signs and any other commercial custom signs, graphics, or wraps you desire for a consistent impression anywhere your brand and business is displayed!
Full-Service Interior Sign Manufacturers
We'll take care of all facets of the indoor sign and graphic process.
From consultation to concept, layout, and design, production, and eye-catching installation, we have experts to support you during every stage. We produce the most effective signage, in the right dimensions, with the proper messaging, for the correct area, every single time.
As your local professional sign and graphic professionals, we supply on-the-spot assessments of your commercial sign and graphic needs, making educated suggestions regarding which elements will best suit your area. As talented sign development and implementation specialists, we provide specific, useful signage that is effectively spotted, comprehended, and remembered.
Our commercial sign fabrication professionals ensure all aspects of your signs and graphics are made exactly to spec, and that all commercial signage components work with each other as planned. Our quality standards are firm in order to secure your total satisfaction. Our sign installation professionals are fast and efficient, finishing the job as quickly as possible while still living up to our high standards for quality.
When you require custom interior signs and graphics that are supportive, eye-catching, and affordable, your local indoor signage specialists at On Display Signs, Inc. will deliver.
Free Expert Indoor Sign Consultation
On Display Signs, Inc. looks forward to marking a positive impression on you with our professional customer and client support, expert sign designers, and remarkable sign building. Our reliable, dependable Louisville indoor sign company team is eager to produce the high-quality, custom indoor signs required to improve brand reinforcement, customer support, product and service promotion, or navigation.
Call On Display Signs, Inc. at 502-235-4063 for your Free Consultation with an Indoor Signs Specialist!