Louisville Vinyl Signs, Graphics, & Banners
View Vinyl Sign Gallery
Add excitement to your storefront, turn your walls into a work of art, put your logo on any surface, or create portable signage elements with high-quality vinyl signage products by your Louisville vinyl sign company, On Display Signs, Inc.!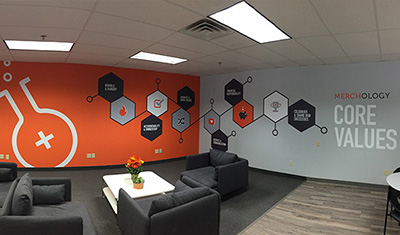 Branded, durable vinyl wraps, signs, graphics, and banners are an excellent tool for your business. Whether you want to attract attention to your business facilities, support your customers and clients with effective signage elements, or improve your results at your next tradeshow or event, our staff of custom vinyl signage experts deliver high-quality vinyl signage solutions for your goals.
We are your experienced, all-inclusive large format vinyl signage company, and our team offers high-quality signs and graphics solutions. Our local facilities allow us to provide fast customization and on-site installation for virtually all high-impact graphics your facility needs.
If it's full-color, durable lettering, floor graphics, decals, window graphics, vinyl clings, wraps or any other sign, wrap, or graphic element you are seeking, our reliable vinyl signage professionals are ready to handle your signage project with speed, experience, and high attention to even the smallest detail.
Call On Display Signs, Inc. at 502-235-4063 for your Free Consultation!
Promotional Vinyl Banners
On Display Signs, Inc. provides virtually unlimited options for custom banner creation, allowing us to design the ideal banner for your every need. From durable outdoor banners to announce a grand opening to portable retractable and pop-up banners for events, we handle every banner project, large and small.
You may desire a large vinyl backdrop, a hanging indoor banner, or even a congratulatory banner. Whatever your needs, we handle your entire project, assisting with banner design, printing, and sourcing support or hanging materials to ensure you are display-ready.
Banners are a popular tool for all businesses, allowing them to easily and effectively announce, promote, or change their special offers, notify the public of important events, or drive traffic to their newest product. Let On Display Signs, Inc. provide the ideal banners for you.
Window Vinyl Clings & Film
Retail shops spend a lot of time and energy on conceptualizing their seasonal front window displays. An effective window display is designed and constructed to pull engaged likely buyers into your store. When having a special event, promotion, sale, or aim to boost sales of a new, high-margin item, your custom window displays are a great way to manage this.
Often, window displays are upgraded regularly to show off the hottest, newest products you provide. On Display Signs, Inc. provides brand-promoting window graphics and signs to build excitement around your special sales and events and interesting merchandise in a professional way that can draw in more new potential customers.
When executed attractively, even service providers can attract clients and increase their brand visibility with an attractive, branded window display! Put your storefront windows to work, effectively attracting more potential customers with effective custom signs, graphics, banners, murals, posters, and lettering displaying your exclusive solutions, specific promotions, or even integrate an informative custom window display that showcases what you do best. Our knowledgeable graphics and signs consultants consider your unique business goals to produce the perfect custom display for all of your business wants. We tackle custom display fabrication and final installation of your branded business window graphics.
Office buildings, similar to service professionals, law firms, insurance brokers, real estate agents, counselors and therapists, and many more, choose to take advantage of branded vinyl window film on their business facade windows for branding, promotion, or privacy reasons. We develop privacy film that offers the same overall look as an etched or frosted glass window panel, minus the hassle and high cost of replacing entire glass panels.
Including your company name, logo, and other critical information into your privacy film is a powerful option for improving your brand awareness while retaining appeal. Our experienced signage experts will fabricate an exclusive privacy film custom-crafted specifically to your company, or supply examples of generally used vinyl film possibilities that will support your company goals.
Cut Vinyl Lettering
Every store has different hours that it is available to visitors and guests. Most businesses open their doors only during specific hours and days. High-quality display of your operating hours makes a great impact on the way your customers view your organization.
Cohesive branded vinyl window lettering shows customers that your store is open for business and that you are invested in growing your business. When customers can see that you care about your company, customers can see that you will also care about the quality of your service. On Display Signs, Inc. lets you show just how much you care with affordable and attractive vinyl lettering and professional installation. We customize our signage solutions to suit your brand and business style, making certain that you have the ideal vinyl graphics solution to fit your brand instead of the cookie-cutter products offered by other suppliers.
Any time you must have the perfect signage solution to present your store information, On Display Signs, Inc. possesses the resources and tools you truly need.
Wall Murals & Floor Graphics
On Display Signs, Inc. provides impactful, attractive vinyl wall murals and graphics that will definitely delight customers and guests.
Excellent for organizational purposes, custom vinyl murals can turn a bland hallway into a story of your brand history, add an important message to an uninspiring wall, or can even proudly display your logo in your office reception area.
Regardless of your desired size, purpose, or placement, from bathroom hand washing signs to impactful break room vinyl murals, our professionals plan, fabricate, and professionally install the perfect signage for your facility. No matter whether you already know exactly what you want or are looking for assistance in deciding what elements are exactly right for your space and business needs, our industry experts will recommend the ideal custom wall mural for your business.
We provide custom vinyl graphics for all aspects of your business, from walls and windows to even the floors of your facility. With eye-catching, durable floor graphics, you can intuitively guide customers throughout your facility, highlight special promotions, or even just promote your brand.
Our vinyl floor graphics can be durably adhered to just about any smooth surface, including concrete, asphalt, tile, laminate, wood, and even some low-pile carpets, making them a great option for any business or location. We can even produce those durable enough for long-term outdoor use.
Whatever your need for attractive, high-quality vinyl graphics, we have the solutions for you!
Vinyl Graphics Options
On Display Signs, Inc. manufactures eye-catching and informative vinyl signs for increasing brand recognition. Our accomplished vinyl sign and graphic experts produce long-lasting window graphics that directly support your business objectives, match your existing product branding, and get your unique message out to new potential clients.
Our vinyl sign consultants develop the best signs and graphics you need to support your branding goals. We listen and learn about your commercial business and brand and make educated suggestions for sign and graphic solutions that you are proud to display. Our team is ready to help support your business and marketing goals with attractive window graphics, signs, wraps, lettering, banners, and more.
Popular uses for vinyl graphics include:
We customize your vinyl signs and graphics specifically for your business and brand. We deliver high-quality banners, graphics, murals, and display elements of any size, display type, or design.
Full-Service Vinyl Graphic Shop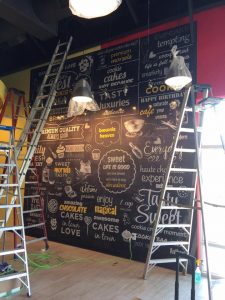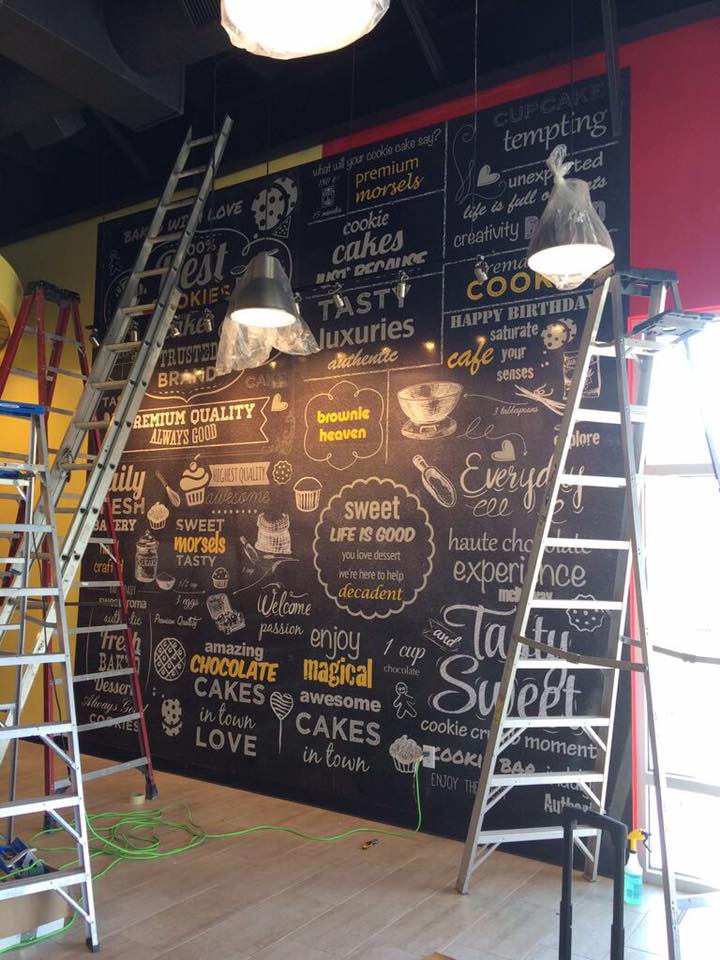 On Display Signs, Inc. is your Louisville vinyl signs and graphics partner. Our experienced team of sign and graphic professionals regulate every facet of your signage, starting from the free initial vinyl sign consultation all the way through to expert installation of your lettering, graphics, and signs. It doesn't matter if you only have a single graphic or an assortment of commercial vinyl signage, our pros deliver the right custom signage products for you every step of the journey.
We focus on sustainable practices when possible. We utilize the best materials, processes, and products to decrease our environmental impact and reduce material waste, all while saving you money.
Our skilled installers are focused on precision as well. We ensure that your final product is properly aligned and is without warps, tears, or bubbles for an attractive and eye-catching finish.
Free Vinyl Signs & Graphics Consultation
If you want a professional Louisville vinyl signage company to supply the high-visibility, eye-catching visual elements your business desires, On Display Signs, Inc. offers the best solutions for your business. Your local commercial signage provider, we supply the window displays, signs, lettering, banners, posters, or graphics you need to boost your brand and business visibility and increase targeted traffic.
When you are ready to boost your business presence, On Display Signs, Inc. delivers.
Call On Display Signs, Inc. at 502-235-4063 for your Free Consultation with a Vinyl Graphics Specialist!