Louisville Outdoor Signs
View Outdoor Sign Gallery
Eye-catching, engaging, and promotional, your storefront signs, graphics, and displays are often the first impression potential customers have of your brand. Your Louisville outdoor signage company, On Display Signs, Inc. delivers effective signage that performs.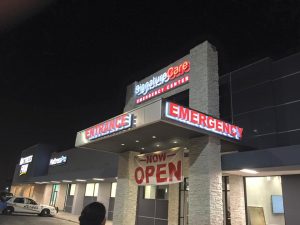 We understand just how important it is to make it easy for potential customers to understand who you are, what you do, and how you can help your local community with their needs. Your outdoor blend of signs and graphics is intended to educate and attract those passing by to what your brand is all about.
Compelling exterior signage is key to customer attraction. There are many different methods for catching the attention of potential customers. Our experienced outdoor sign and graphic consultants help you determine what blend of signage elements are best for your needs, location, business, and brand. From building signs to window graphics, vehicle wraps to outdoor banners; we handle your entire project from need identification to final signage installation.
Cohesive signs are the ultimate in brand reinforcement, so we utilize your fonts, colors, logos, and taglines throughout to ensure your branding is seen, remembered, and recalled positively. If you are looking for an impactful, high-converting storefront that potential customers just can't resist, On Display Signs, Inc. has the right outdoor sign products and solutions for you.
Call On Display Signs, Inc. at 502-235-4063 for a Free Consultation!
Storefront & Building Signs

Your outdoor signage is key to sharing important details about your business and brand with your desired customer base. Signage must meet certain parameters if you want it to be effective at generating new business.
First, your signage must be visible and legible. In order for your signage to work for you, people need to be able to clearly and quickly identify and understand your message. This relates to signage placement, lettering size, and conciseness of messaging.
Your outdoor signage must also be brand cohesive. Branded signage throughout utilizes your colors, fonts, logos, and consistent brand messaging. This not only provides a professional appearance, it also reinforces your brand identity for easier recall and increased familiarity when exposed to your brand again in the future.
Your outdoor signage must be informative. There are important details your customers need to know to make a decision about how and when to do business with you. Displaying your hours of operation, accessibility features, and contact information in a visible, high-traffic area such as your business doors makes it easy for customers to intuitively find the details they seek.
As your Louisville outdoor sign specialists, we consult with you to determine the appropriate signage blend, placement, and design for maximum effectiveness.
Channel Letters & Dimensional Letters
Many businesses utilize custom storefront signage to promote their brand name on their physical location. A popular option for business identification, channel letters and dimensional letters are impactful, attractive, and compelling. They integrate as an attractive part of your storefront, rather than a sign tacked to the front.
Highly customizable to your brand, business, facility, and desires, we can customize your storefront letters to include numbers, symbols, logos, and/or lighting to maximize your appeal. While you will maintain design control, we will make smart recommendations along the way to ensure you are getting the most out of your signage, such as recommending placement and letter size for maximum visibility.
We can create customized channel letters or dimensional letters to perfectly suit any brand, business type, or location. These sign types work well for all local businesses or corporations, from retail stores to professional services.
Custom Sign Panels
An alternative to dimensional letters, custom sign panels are another popular choice for storefront signage. Consisting of large graphic panels that are securely attached to your storefront, they can be completely customized to your needs and desires. You choose exactly what information you want to display, and our signage experts can make educated recommendations for size, placement, and exact messaging to create a compelling, informative signage element.
We can create flat sign panels or raised lightbox style panels. They can be cut to match the shape of your design or space and completely customized to complement your building exterior and branding. From wall plaques to complete storefront signs, we create the perfect sign panels to support your business.
Storefront sign panels can be customized to your brand and facility. They are a durable, functional signage element that can be utilized for any business type, including manufacturing, distribution centers, specialty businesses, or other commercial facilities.
Lighted Signs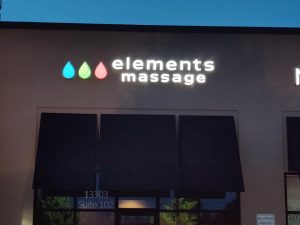 A great method for improving the visibility of your signage, lighted signs are easily spotted during all hours and in all types of weather. If you want to promote your business and brand 24/7, illuminated signage is the right choice.
We offer many different types of lighted signs, including traditional lighting for solid signage like dimensional letters or sign panels. Many other sign types are able to be internally lit, including channel letters, cabinet signs, and even digital message centers and displays. For your storefront signs and freestanding outdoor signage like monuments and pole signs, we provide energy-efficient and wallet-friendly LED signage elements for maximum visibility.
Illuminated signage elements are ideal for attracting customers at night, during poor weather, or from a distance. They work well for nightclubs and bars, theaters, restaurants, retail, gas stations, and anyone who wants their brand to light up the night.
Monument Signs
A freestanding signage element that is designed to impress, monument signs are typically found at the entrance to business, campus, or complex. Monument signage is completely custom-crafted to suit you, consisting of many different construction types, designs, materials, and displays.
We create monument signage that is as impressive as your organization, showing the durability, longevity, and professionalism of your brand. From solid marble structures to lightweight foam displays, we create custom solutions to match your brand personality, other signage elements, and budget needs. We can even incorporate lighting elements, digital displays, message boards, or other integrations and customizations to make your sign both functional and attractive.
Custom monument signs are an emblem of the durability, longevity, and permanence of your brand. They are often found at corporate facilities, government buildings, campuses, schools, churches, resorts, private clubs, and even neighborhoods.
Pole Signs & Pylon Signs
An outstanding tool for attracting customers far and wide, pole signs are a high-visibility solution that truly makes your signage stand above the rest. They are often used to attract passing traffic to visit businesses near busy roadways or to display all the businesses located within a shopping center, mall, or other complex.
We can customize your pole signage to include lighted elements, digital displays, or include the brands of your tenants. We can also assist with selecting ideal height, positioning, and placement of your pole or pylon signs to ensure they are seen by the most eyeballs possible.
Tenant, pylon, and pole signs provide maximum visibility for your business, and are especially useful for those without road frontage. Fast food, gas stations, service centers, shopping malls, supermarkets, and other businesses looking to grow drop-in traffic can benefit from pole signs.
Complete Exterior Signage Provider
Increase your brand awareness with attractive, high-converting outdoor signs and graphics by On Display Signs, Inc.! From towering pole signs and graphics to professional a-frames, channel letters, digital displays, and more, we design, fabricate, and install all of the signs you need for exceptional business visibility.
Building a strong base of returning customers is the primary job of an effective business storefront sign. Your storefront signage is more often than not the primary place a potentially new customer or client learns about your business, so the information and facts provided should be insightful, attractive, and brand promoting.
A good number of organizations need a main building sign, such as logo signs, hanging signs, or dimensional letters to announce the presence of their business. Promotional graphics show clients and customers why they should shop with you while door signs deliver information, for example, your operating hours. Digital message centers, banners, a-frame signs, or posters appeal to customers with special discounts.
You will need the correct combination of these high-quality exterior signs and graphics to secure even more potential customers, and On Display Signs, Inc. will deliver the right blend for you.
Our other exterior signs include:
Don't see the sign you are looking for? This list is only an example of the variety of outdoor signs we can create. We have the tools, resources, and knowledge to create virtually any type of signage you can possibly imagine! Our expert consultants and project managers would love to discuss your signage ideas.
Full-Service Exterior Sign Company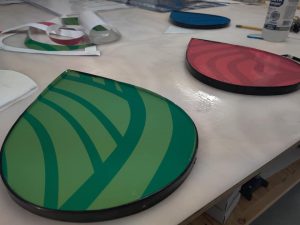 As an experienced Louisville exterior sign company, On Display Signs, Inc. offers a full selection of outdoor signage products and services so you will not require additional suppliers to deliver custom sign design and layout, local fabrication, along with final installation. Every signage related service or element you will require is easily accessible, with our dedicated professionals also delivering maintenance.
Our primary objective is to make sure that we fully grasp your distinct signage requirements or business visibility goals. Getting this insight early allows our sign and graphic experts to recommend options that effectively match your specifications, including the proper placement, signage elements, and sign types to best suit your business facilities, schedule, and marketing budget. Our professionals share the information they learn with our creative custom sign design team to ensure your vision is represented in your proposed sign product.
On Display Signs, Inc. is dedicated to reducing our impact on our shared environment by utilizing efficient fabrication practices and processes. Our goal is to make use of earth-conscious procedures, materials, and machines in order to decrease waste material and avoid wasting energy whenever possible. Our team of experts supply you with all components necessary for skilled installation, performed by our experienced commercial sign installation team.
Free Outdoor Sign Consultation
On Display Signs, Inc. is your Louisville outdoor sign company, providing high-quality, branded, and functional signage elements that support your brand, promote your products, and ultimately drive more customers and clients into your business.
By presenting an attractive, cohesive storefront, you showcase your professionalism and make every new customer feel confident that you are the right choice for them, just like we are the right choice for you. We are excited to deliver eye-catching commercial signs and graphics that perform for you!
Call On Display Signs, Inc. at 502-235-4063 for a Free Consultation with an Exterior Sign Specialist!