Louisville Yard Signs
View Yard Sign Gallery
Are you looking for a powerful yet cost-effective way to promote your business, event, or even your political campaign? On Display Signs, Inc.'s Louisville yard signs might be just the thing you need at the moment!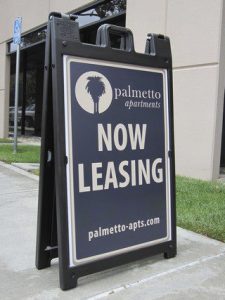 Yard signs are among the most economical signage products that many businesses, institutions, communities, and advocates use for their promotional needs. They are great in endorsing not just businesses and products but also events, causes, and political affairs during election season.
On Display Signs, Inc. is a leading full-service signage provider that has years of experience creating small to large-scale yard sign projects for many clients in the past. We have industry-grade equipment and facilities to create any customization you want on your signage. No matter what needs you have, we guarantee that we'll deliver it to you to the best of our professional abilities. Call On Display Signs, Inc. today so we can begin working on your Louisville yard signs as soon as possible!
Call On Display Signs, Inc. today at 502-235-4063 for your Free Consultation with a Louisville Yard Sign expert!
Promotional Signs for Business
Also known as coroplast signs or bandit signs, yard signs are used across many industries and institutions, including private businesses, advocacy groups, local communities, non-profits, and even charity organizations. Regardless of the type of establishment you run, we are here to help create the best possible yard sign package that specifically matches your needs.
Here are the most common uses of yard signs:
1. Highlighting special community events like athletic competitions, science fairs, or entertainment programs.
2. Advertising business products and services
3. Promoting special commercial products like new releases, seasonal products, or best-selling offers
4. Informing local communities of regulations, events, or programs
5. Promoting soon-to-open businesses
On Display Signs, Inc. can provide for your yard sign needs regardless of the modifications or customization you want for your signage products. From design to production, we can provide all the services you need to get them installed around your desired area. Send your ready-to-print files or collaborate with our graphic designers to get the best output you can for your cause. Rest assured that we will employ only the highest level of excellence and professionalism that we can offer to deliver your products at the highest quality possible while remaining within your budget range.
Custom Real Estate Signage
Yard signs are popularly used in the real estate industry. Agents use this liberally to promote their services in a community because it's a very cost-effective signage product. If you are a real estate agent or company that needs to advertise your open houses, homes for sale, or business areas for sale, our Louisville yard signs will do the job perfectly for you.
With On Display Signs, Inc., you can fully customize your signs according to your brand. Any branded image or logo you have can be effectively incorporated into these signs. For a full-package deal, we can also provide every accessory and supporting structure to your real estate yard signs.
If you need more signage to supplement your yard signs, we also offer a wide range of products, from banners to vinyl graphics. On Display Signs, Inc. has everything you will need from the signage industry.

Political & Campaign Signs
If there's a time of the year when you're bound to see a large number of yard signs, it will be during elections.
During campaign periods, people will want to have the highest level of publicity without the exorbitant costs; and yard signs are one of the best ways to do this. They are also very lightweight and convenient to use, making them great as supporting materials during political events like rallies and campaign events.
On Display Signs, Inc. has all the equipment needed to create even the most fully customized yard signs for your political candidate or cause. Just tell us what you need, and we'll recommend the best ways to achieve that through impactful Louisville yard signs.

Free Yard Sign Consultation
With On Display Signs, Inc., rest assured that your yard sign project would begin as soon as we finish ironing out all the necessary details. Our signage experts will immediately begin the project, working efficiently and cost-effectively from start to finish without compromising the quality of the outputs.
Just tell us your needs, whether it's only to translate your designs into physical signage or to create a new special brand for your business, activity, or event. On Display Signs, Inc. is your top provider of Louisville yard signs, and we can't wait to work with you!
Call On Display Signs, Inc. today at 502-235-4063 for your Free Consultation with a Louisville Yard Sign expert!