Louisville Lighted Signs
If you want to make your business stand out among other establishments in your vicinity, then you should check out the best lighted sign solutions at On Display Signs, Inc..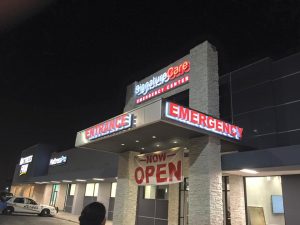 Lighted signs can make your business shine among the rest, even in low visibility situations such as during bad weather or at night. These signs come in an impressive variety of specifications, such as sign types, colors, forms, features, and designs that can make your sign uniquely attributed to your business.
Lighted signs are popular in almost every type of industry. They can be used as flashy outdoor signs portraying the classic bright neon look, or informational indoor highlights like emergency exit signs. On Display Signs, Inc. is all you need whenever you want to upgrade your business with state-of-the-art lighted signs.
We can create fully customized and illuminated storefront signs, logo lobby signs, and other lighted signs in compliance with the needs and budget of your business.
Our goal is to be your one-stop-shop for all your signage needs in Louisville, KY. So what are you waiting for? Get your high-quality and durable Louisville lighted sign today from On Display Signs, Inc.!

Call On Display Signs, Inc. today at 502-235-4063 for your Free Consultation!
Traditional Neon Signs
Neon signs have captured the advertising industry by storm throughout the 20th century.
Today, they are still popular because of their classic and vibrant look that can attract customers, especially during the night when they are more visible. They are popular among night-oriented businesses such as retail stores, gas stations, bars and clubs, theatres, and convenience stores.
On Display Signs, Inc. can bring you neon signs that you want for your business. However, a new lighted sign technology is claiming the crown because of how advantageous it is compared with traditional neon signs by miles. Our Louisville sign company offers state-of-the-art LED signs that can outperform the old technology of neon signs without compromising the look and feel that neon provides.

Lighted LED Signs
Light-emitting diode technology has taken the lighted sign industry by storm because it is similar to neon signs in terms of vibrance and brightness, but not in terms of neon signs' drawbacks.
Unlike neon signs, LED signs are environmentally friendly and a lot less expensive. They are also much easier to handle and maintain, making them the superior choice for commercial lighted signage today.
On Display Signs, Inc. can bring this new cost-effective and budget-friendly alternative to neon signs to your business now. We can customize these lighted signs according to your needs and preferences.
So if you run a business that operates during the night such as convenience stores, gas stations, nightclubs, restaurants, hotels, and theaters, our Louisville LED lights can change the game for your business. You can choose among a wide variety of specifications and personalization options—color, design, style, size, and even animation!
Indoor Lighted Signs
Lighted signs are powerful exterior signs, but they can also provide great service to your indoor environment.
Lighted signs are popularly used for "open" and "close" signs. They also work as wayfinding signs, providing people the right direction towards order and pick up stations.
They can also be used to highlight important areas of your store such as promos, events, and best-selling product sections. On Display Signs, Inc. can help you create lighted signs for virtually any need that you may have.

Programmable Digital Message Centers
If you need a lighted sign that you can change from time to time, then you're in the right place.
On Display Signs, Inc. also offers programmable LED message centers. These are popularly used for companies that want to send different messages from time to time such as best deals, event announcements, or even simple daily messages to your customers.
They are a great upgrade to any business, adding aesthetic and superior information dissemination functions. Get them in excellent variations of single-color to full-color graphics for a fully personalized look.
Full-Service LED Sign Company
For all your lighted signage needs—from the initial consultation, design, manufacturing to the installation, maintenance, and repair, On Display Signs, Inc. is here for you.
We will be with you every step of the way, helping you figure out which lighted sign or design would be best for your company and get that signage for your business effortlessly.
Whether you already have a specific design in mind or not, our graphic designers are dedicated to following your branding guidelines or creating a sign design from scratch for you. We have all the equipment, resources, experience, and expertise to create industry-grade Louisville lighted signs for our clients, and we can't wait to work with you.

Free Lighted Sign Consultation
We offer free consultations to ensure that we create the best sign types and specifications particularly for your company goals, needs, and budget.
Get ready to stand out in your community with On Display Signs, Inc.'s lighted signs.
Call On Display Signs, Inc. today at 502-235-4063 for a Free Consultation!