Panel Signs
View Sign Gallery
Looking for an affordable, versatile signage option that can be utilized by virtually any business location or type? Sign panels are highly customizable, and can accommodate the needs of your business and brand in ways that many other sign types can't.
On Display Signs, Inc. designs, produces, and installs custom panel signs at a reasonable cost. For both indoor and outdoor use, sign panels can be made from a variety of substrates, and can be customized to your desired design, shape, size, and color preferences. Our panel signs are custom crafted for your needs, location, and brand, and are designed to get your business noticed.
It's extremely important that your signage looks impressive and is built with the best quality, which is why working with a reliable panel signs provider is vital when it comes to deciding about your business signage. On Display Signs, Inc. specializes in customizing panel signs according to the preferences, needs, and brand identities of our clients.
Call On Display Signs, Inc. today at 502-235-4063 for your Free Consultation!
An Affordable, Versatile Option
Sign panels provide a lot of versatility in design, placement, and cost. We work with your unique needs, brand guidelines, and budget to determine which type of panel sign will best suit your business and goals.
If you're looking for outdoor signage, sign panels made of water-proof, weather-resistant, and stain-resistant materials are excellent choices. Aluminum, coroplast, and dibond are among the popular substrates that business owners commonly choose. These materials are ideal for building signs, fascia signs, pole signs, hanging signs, blade signs, monument signs, yard signs, and dimensional letters.
If you desire attractive indoor sign panels, we deliver acrylic, vinyl, LED, fabricated metal, foam boards, and aluminum sign panels that will last the life of your business. Whatever your needs may be, On Display Signs, Inc. delivers the right signs and graphics solutions for your business.
Aluminum Sign Panels for Storefronts
Highly durable and built to stand against everyday weather, aluminum is ideal for outdoor signage such as storefront panel signs, wayfinding signs, or post signs.
Aluminum is one of the go-to materials in the sign industry because of the following reasons:
Strength – The thicker your aluminum sign panel is, the stronger and more rigid it gets…and they come in an array of thicknesses! They can be as thin as .040 gauge which is great for the usual parking signs, and as thick as the heavy-duty .125 gauge which is practically impossible to warp, shatter, and split in normal use. They will last many years on your storefront and will help give your business a pretty face.

Cost-effectiveness – Aluminum is one of the most affordable sign materials out there. But just because its price is low doesn't mean its quality is. Aluminum's durability and impressive lifespan when used to make signs give you the most bang for your buck. They are great for long-term use and are perfect for your business's storefront panel signs.

Versatility – Unlike many other sign substrates, aluminum works well both indoors and outdoors. It works well on its own and even with other materials. It can be used in flat face signs or with raised letters. An aluminum panel can be used as a canvas for your sign and can be used as the sign itself. Aluminum can even be customized to the cut, shape, size, and finish that your business needs. The signage possibilities are practically endless with aluminum.

Sleek, Professional Look – Aluminum signs can come in various finishes such as brushed, polished, and mirrored. Each type of finish gives your storefront sign a distinct appeal, but all of them bring out a professional shine and classy luster. Aluminum storefront sign gives your brand an attractive and impactful introduction to your target market.

We look forward to effectively supporting your business goals with attractive, effective, and affordable custom signage.
Acrylic Illuminated Sign Panels
Having illuminated exterior signage for your business may seem like an expensive way to get your brand out in the public eye, however, acrylic sign panels make it inexpensive to get a high-end look for your business signage. Illuminated sign panels allow you to advertise your brand, catch customer attention, and make valuable impressions 24 hours a day, 7 days a week.
Illuminated sign panels can be used to create many different sign types, including channel letters, cabinet signs, and even towering pole signs. They can be face-lit, halo-lit, or backlit; they can be illuminated using neon lights or LED lights; they can be raceway-mounted, direct-mounted, or pole mounted.
We use LED lights for maximum brilliance, energy savings, and cost-efficiency. Whether you need aluminum, acrylic, vinyl, or polycarbonate for the faces, sides, and backs of your lighted panels, On Display Signs, Inc. has the equipment and materials to provide you with the illuminated sign panels that best complement and represent your business.
Indoor Lobby Panel Signs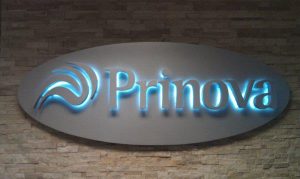 Giving your customers the best impression doesn't stop with your exterior signage. Your indoor signs are important, too! Your interior signs make a big impact on how your clients perceive your products and services. Affordable, versatile, and highly functional, acrylic wall panels are an excellent choice for improving indoor aesthetics while increasing brand awareness.
On Display Signs, Inc. offers a vast selection of acrylic wall panel options. From high-gloss acrylic wall signs that give your lobby a sleek, sophisticated look to illuminated lobby signs, we will custom craft the perfect sign to suit your desires. Acrylic sign panels for lobbies can be completely customized to your needs, including layering with other types of substrates to create an eye-catching, multi-dimensional look. Our acrylic signs can also be used to custom-craft your business's logo and name into your lobby signage, giving your customers a professional and eye-catching welcome into your office.
Full-Service Sign Company
On Display Signs, Inc. has successfully handled panel signs projects for many clients. We believe our success stems from our drive to deliver more than other local sign providers do. We don't just take your designs and print them out for you. Our team of sign & graphic designers, project managers, and marketing experts actually work closely with your team to ensure we get every detail just right.
From consultation, to design, to fabrication, to installation, and even to maintenance, On Display Signs, Inc. has your back! We are passionate about giving all of our clients the best quality signage, and we're ready to give you our professional insight, opinions, and advice about your panel signs.
Free Post and Panel Signs Consultation
If you feel like panel signs may be the right signage solutions for your business's needs, On Display Signs, Inc. has a lot of options you can choose from. Whether you need building signs, lobby signs, channel letters, or even storefront signs, we can deliver the sign of your dreams to you.
On Display Signs, Inc. is excited to have one of our experienced signage specialists answer your questions and discuss details with you.
Call On Display Signs, Inc. today at 502-235-4063 for your Free Consultation with a Panel Signs Expert!